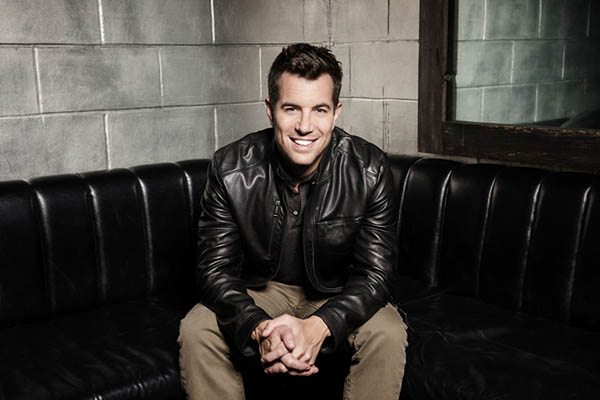 Nick Hexum is best known for fronting alternative rockers 311, but now, he's branching out on his own. Hexum just released his debut solo album, My Shadow Pages, and the album shows him taking a new, fresh direction, with songs that blend pop, jazz, funk and classic rock.
When laying down guitar lines for My Shadow Pages, Hexum took to his black ES-355. We chatted with Hexum about the new album, going solo and why Gibson guitars are "the whole package."
Congratulations on your solo release, My Shadow Pages. This is your first solo album. Why the decision to step out on your own now?
It just happened organically. My brother, Zack (a very accomplished jazzbo) and I were talking about making an instrumental funky jazzy jam band. We started writing instrumentals, but we both love to sing, so we started adding vocals. Next thing you know, we had "Blame the Sky" finished and loved it! Then I started making the rounds with my friends who are in the co-writing songwriters' circuit, and the album practically wrote itself. It was just really nice to have no expectations and be able take the tunes wherever I saw fit. I had such great help from the band I put together, my co-writers, producer Jim Scott and my managers Adam and Peter Raspler. There are so many to thank that have made it possible. The term "solo album" is a bit of a misnomer.
How does this release differ from what you do with 311? Do you think it will surprise 311 fans?
Well, the instrumentation is different. The funk I like relies quite a bit on Hammond B-3, Rhodes and Clav, so those are new ingredients for me to work with. The quintet has two keyboardists (Luke "Chops" Miller and Zack Hexum), so that's a big difference from 311 right there. Plus, Zack plays a lot of sax on the album. And rhythm guitar and flute, for that matter! I think it has surprised some fans, and that's good to keep them guessing!
What was it like working with producer Jim Scott? He has a great résumé.
Jim was a real pleasure to work with. He and drummer Gary Novak got amazing drum sounds. Plus, he has pretty much every rock instrument known to man all set up in his studio so we were like kids in a candy story. Bassist, Andres Rebellon, played a different one of Jim's vintage basses on every song. We cut all the instruments in just five days so it was just "throw and go." Jim said he doesn't remember being part of a project where he got so much great stuff so quickly. He said, "There was a lot of trust in the room."
Do you have a favorite song on the album?
I love "Sideways" a ton. I don't recall writing a song in the Lydian mode before, so that gave it a unique flavor. "The Getaway" is fun to play live.
Let's talk guitars. What Gibsons are in your collection?
So many Gibsons in my collection! Sometimes I thought I'd need an intervention to stop me from searching for the next perfect hollow body. I have a 1961ES-330 (on the album cover), a 1970 ES-335, two modern ES-355s and a modern ES-335. All of them have Bigsby vibratos. The vintage guitars I left stock and the modern ones have been modified. I put a P-90 in the neck position and humbucker in the bridge position. I also put a roller bridge on. I mostly use the single coil neck pickup. I fell in love with Grant Green's jazzy yet slightly bluesy P-90 tone. I could design a badass Hexum signature model. (Hint, hint!)
What, specifically, do you like about playing Gibsons on the road and in the studio?
The feel, the tone, the look, the whole package. Gibsons are always warm enough and then when add the chimey-ness of a P-90 through my Analogman King of Tone overdrive and that baby just sings!
In addition to being a performer, you've also served as a producer and mixer for a variety of acts, including Seal, No Doubt and Lenny Kravitz. Which do you prefer: producing or being the musician recording?
I'm not really interested in producing anymore. I learned a ton from those experiences. I'm really proud of the songs I did for Pepper's "No Shame" album. However, you get to a certain point and you realize your time is limited and you have to stick to the things that are most fulfilling. I love writing and recording with 311 and my quintet and performing live. When you add in raising kids, I've got plenty on my plate, and that's how I like it!
What's next for you with the solo release? Also, is it true 311 is going to release a new album next year?
I'm looking forward to playing out with the quintet. It's going to be a lose thing with covers and lots of improv. Meanwhile, I'm tracking my parts to the amazing new 311 record we are recording. Yes, it's coming out on March 11, 2014. 311 Day is a very special show we do every other year on 3/11, and in '14 it's in New Orleans. We're planning lots of surprises.
Photo credit: Matt McGinley.